Emmanuel Jackson
Founder , CEO and Chairman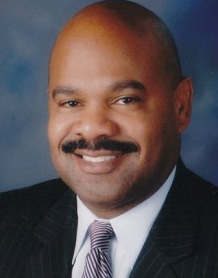 Evanston Technology Partners was created by Mr. Jackson to help healthcare organizations improve efficiency and quality and decrease costs with innovative IT solutions – solutions to help streamline and coordinate patient care activities across the enterprise.  Mr. Jackson is an innovative entrepreneur whose experience with Siemens inspired him to launch the company.  Prior to his creation of Evanston Technology Partners, he founded Innovative Packaging Partners of Illinois and Mississippi, a pressure sensitive label distributor.  He also founded a telecommunications infrastructure company, Innovative Technology Systems, employing more than 140 individuals.
Mr. Jackson began his healthcare career by serving as medical surgical buyer for Saint Francis Hospital in Evanston, where he also chaired the new products committee, and held a similar position at Saint Joseph Hospital in Chicago.  He joined the Cook County administration as a contract administrator.  As a procurement officer, he built relationships and created teams of clinicians and administrators to improve the management of resources, efficiencies and patient outcomes.  Mr. Jackson served as Director of Business Development at Health Tech Industries, a pharmaceutical distributor, where he led the creation of the medical/surgical division that resulted in a 40% increase in profitability for the organization.
In 1999, Mr. Jackson created Innovative Technology Systems (ITS) to serve as an outside plant contractor with Ameritech New Media; Ameritech was eventually sold to SBC (now AT&T).  In 2002, AT&T created a mentor/protégé program which matched its prime vendors with its minority suppliers.  AT&T's mentor program launched a relationship over a decade long between Mr. Jackson and Siemens.  Innovative Technology Systems served as a subcontractor to Siemens in their central office (data center) service and management team.  Mr. Jackson continued to serve as a consultant and contractor to Siemens One, Siemens Building Technologies, Siemens Enterprise Communications and Siemens Medical.
Mr. Jackson has been active in the Chicago community for over 25 years, beginning as a board member of the Youth Job Center of Evanston at age 17.  In 2007, he was inducted into the Nominator's Circle at Rice University in Houston.  Mr. Jackson is a native of Chicago, and spent his early childhood years in the Cabrini Green and Bronzeville communities.
He received a certificate in executive management from the University of Wisconsin-Extension, 2002.